Posting here until blogspot decides to cooperate.
The final Yarn of the Month Yarn is:

Tuscany, by Cascade, in color 40320.

I love this yarn and want to have its babies. Or at least hope to be able to afford enough to make myself a nice thick afghan for cold winter nights. Not going to happen, though, not at $14.50 a ball.

Fiber Content: 100% wool
Gauge on recommended needles: 1.5 st on US 17
Gauge achieved using recommended needles: No - one size up to US 19 did get gauge, however.
Swatch size: 4" wide x approximately 4" high and it was a near thing.
65 yards

In the package, I could already tell I was going to enjoy working with this fluffy, chunky yarn:




It looked almost unspun, or barely spun. Out of the package, I confirmed its both soft and squishy nature:




And, because it looked and felt so wonderful, I put off knitting it up until the very last of the four yarns.

Naturally, not getting gauge on the first go-round meant that I had to frog what I'd knit. Frogging was no problem, though it had just a hint of a mohair-like fuzz.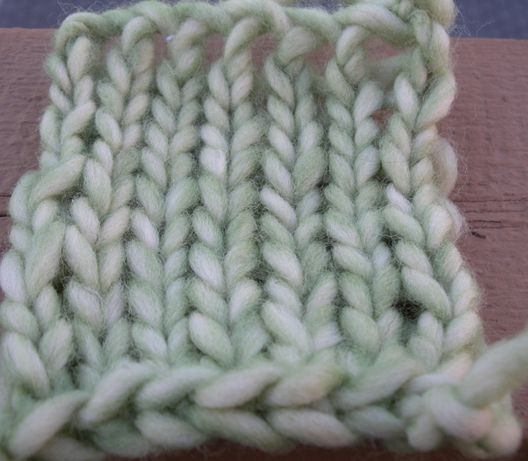 The gauge swatch, unblocked.

Seriously. Can't you see a huge old blanket, maybe with some cables but maybe not, made out of this? It was wonderful to work with, though it's been a while since I knocked anything out on US 17/19s, so working with the large needles was a bit of a nuisance.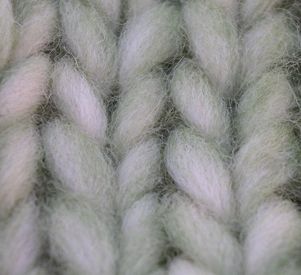 Close-up of stitch definition. Almost at true-to-lifesize, but a little larger.

So, I'm thinking blanket, or maybe another set of bulky knit slippers from Socks Soar on Two Circular Needles. I don't see making a sweater out of this yarn, though; even for my sensibilities it's a bit too bulky for that.

I bet it would make neat knitted toys, too.


---
So, I have given up on the idea of knitting anything out of Alpaca Cloud in the round; I just can't muster up the coordination to do it (IOW, I kept dropping the needles out of the stitches and got too frustrated to continue - I knit for FUN, darnitall). I also realized that I needed a basic gauge swatch of the stuff, both to determine what a good fabric quality was going to be like and also to get used to working with something that fine. Sock Weight is the thinnest yarn I've previously worked with, and I think that after I finish up with this Alpaca Cloud it's going to be the thinnest I ever work with again.
That said, I spent Sunday morning, in Fellowship, knitting: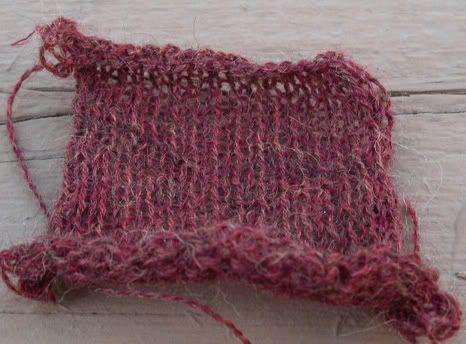 Unblocked, finished swatch on US size
#4s
. I think the 4s are too small, and the 8s I tried were too big, so I think I may settle on a size 6. This is ~8 rows and 6 st to the inch.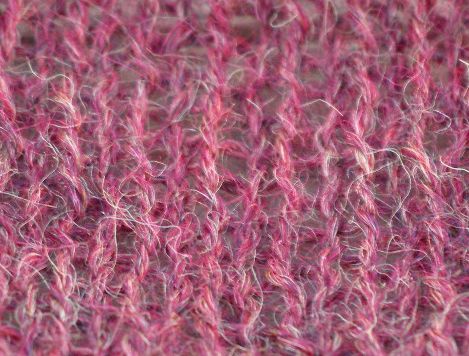 Closeup of the fine stitches.
I think I'm going to work a half-circle shawl out of it, rather than a square, but that means re-charting my patterns. Not to mention that Coyote is not cooperating with me at all; I can't find a lace pattern that satisfies all his criteria, and I'm not confident enough to try and make one up on my own. Oh, well.
And then, just because the contrast in gauges amused me, I took a picture of the laceweight Alpaca Cloud and the Bulky (or is it super-bulky?) Tuscany: